2016 National Treasures Collegiate Football Full Case Group Break Random Divisions #1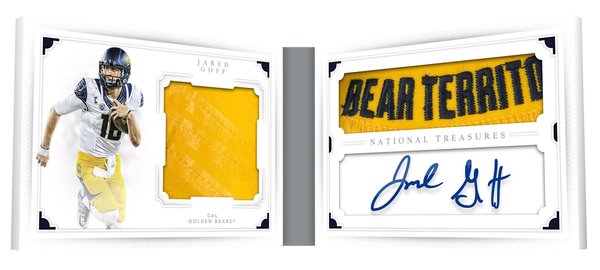 2016 National Treasures Collegiate Football Full Case Group Break Random Divisions #1
The ultra high-end National Treasures Collegiate FB returns in 2016 featuring short printed, serial numbered cards of rookies, superstars and legends from their college days with a vast array of premium memorabilia.
Combo Player Materials Booklet feature the top rookies from the 2016 NFL Draft including one-of-one Laundry Tag Brand and Team Logo, Brand and Team Logo and Team Slogans!
Look for on-card rookie autographs including Material Signatures, Colossal Signatures and Signature Die-Cuts.
Notable Nicknames goes deep with inscriptions from college football icons seq. #'d to 25 or less!
New this year are Team Logo Shield Signatures, Brand Logo Signatures and combo Team Logo and Team Slogan booklets!