2017 Majestic Football Personal Box Break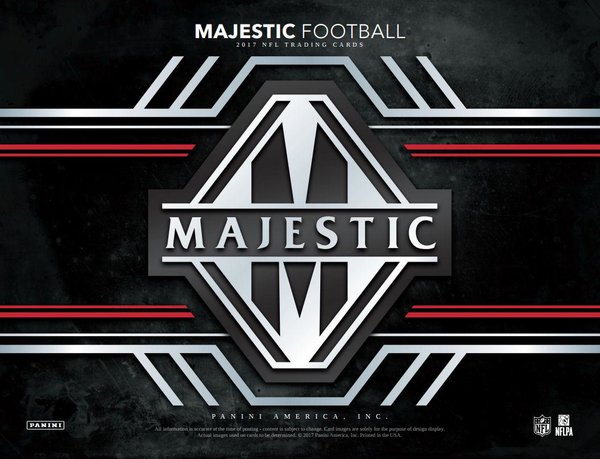 2017 Majestic Football Personal Box Break
Configuration:
10 cards per pack.
1 pack per box.
New for 2017! Majestic Football features a 100-card base set and includes four autographs (with at least one on-card), four memorabilia cards, and two base or parallel cards #'d/99 or less per box!
On-card autos inserts highlight retired players and include Distinguished Defenders, Astonishing Arms, Regal Runners and Wondrous Receivers all #'d/99 or less.
Majestic Football will feature the first autographed memorabilia cards of the 2017 NFL Rookie Class!
Look for the following memorabilia inserts: Team Pedigree, Unsung Warriors, Showstoppers Materials, Proteges Materials and Icons Materials.
Also look for multi-signed cards of the following inserts: Ring Bearers Signatures, Hall of Fame Descent Signatures, Black and Blue Signatures, Franchise Dual Signatures, Super Bowl Teammate Signatures and New Blood Signatures. Multi-signed cards will fall 2 out of every 3 boxes, on average.