2018 Leaf Greatest Hits Baseball 1 Box Random Letter Break #1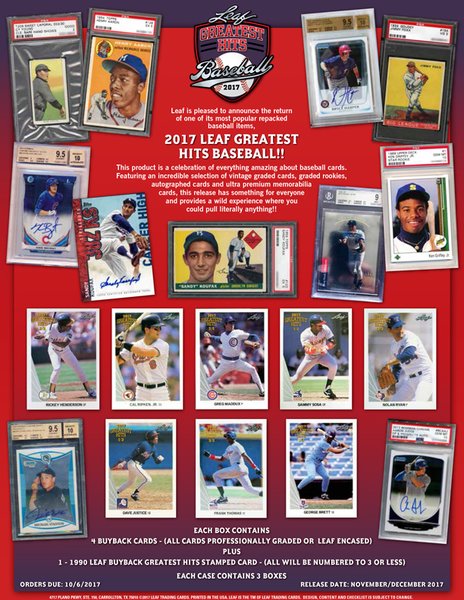 2018 Leaf Greatest Hits Baseball 1 Box Random Letter Break #1
Everyone Will get a Random Letter. The Letter represents the First Letter of the Last Name. If the Card pulled is Hank Aaron it goes to the A spot. If it is a Jr like Ken Griffey Jr it goes to the Last name spot of G...If it is a hyphen name it goes to the letter of the last name in the hypyen so Joe Painter Smith goes to S. Multiple player cards will be random between the letters represented.
These are the Letters for the random. We will auction off the unused letters as a group in the chat starting at $1
This break is for 1 box. 4 buyback cards and 1 leaf.
This Product Is Scheduled To Release On 03/09/18
Configuration: 3 boxes per case. 1 pack per box. 5 cards per pack.

Leaf is pleased to announce the return of one of its most popular repacked baseball items, 2017 Leaf Greatest Hits Baseball!!

This product is a celebration of everything amazing about baseball cards. Featuring an incredible selection of vintage graded cards, graded rookies, autographed cards and ultra premium memorabilia cards, this release has something for everyone and provides a wild experience where you could pull literally anything!!