2016 Donruss Optic Baseball Personal Box Break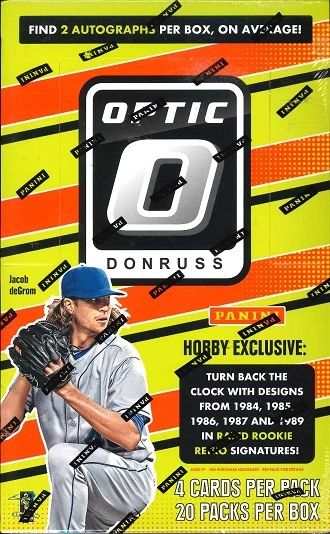 2016 Donruss Optic Baseball Personal Box Break
Donruss Optic delivers the same designs as popular 2016 Donruss baseball, printed on glimmering Optichrome technology!
Look for 2 Autographs per box on average!
Find 6 different on-card autograph designs including, Rated Rookies Signatures and Hobby Exclusive Rated Rookie Retro Signatures, which copies old-school designs from 1984, 1985, 1986, 1987 and 1989 Donruss!
The Base Set includes Rated Rookies, Diamond Kings and the Base Card designs from 2016 Donruss baseball. Look for 10 parallels, including Carolina Blue, Black, Gold, Green and Gold Vinyl!
Find other autograph inserts, including Studio Signatures, Back to the Future Signatures, Significant Signatures and Optic Autographs each with 5 parallels #'d/50 or less. Optic also delivers Base Variations, The Rookies, The Prospects, Masters of the Game, Power Alley and Illusion each with 5 parallels #'d/149 or less!
Box Break:
2 autographs.
6 holo.
10 Diamond Kings.
2 Diamond Kings holo.
20 Rated Rookies.
5 Rated Rookies white.
4 additional parallels.
6 inserts.