2016 Upper Deck Goodwin Champions Multi Sport Personal Box Break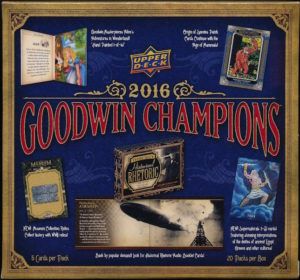 2016 Upper Deck Goodwin Champions Multi Sport Personal Box Break
Configuration:
5 cards per pack.
20 packs per box.
2016 Upper Deck Goodwin Champions will be the 1st product to have Hard Signed Auto cards from Australian basketball phenom Ben Simmons!
CONTENT HIGHLIGHTS: (All content listed is an average based on the entire production run)
Look for three (3) of the following inside every box! 
Hard-signed autographs
Single or Dual Swatch Memorabilia cards
Origin of Species patch cards
Alice's Adventures in Wonderland Masterpieces Booklets
Museum Relics – WWII
The Supernaturals Lenticular Cards
Goodwin Champions Cut Signatures
Historical Rhetoric Audio Booklets
ALL NEW! – Hobby cases are now configured with two (2) sealed 8-box inner cases, allowing more collectors than ever to experience the thrill of ripping a sealed case of product.
Every 8-box inner case will deliver 1 case hit chase card!
ALL NEW! – Collect "The Supernaturals" cards!
Put together a complete set of multi-tiered cross-cultural Supernatural subjects, featuring stunning painted interpretations with lenticular technology! 6 Tiers of collectability!
Collect Two and a half (2.5) "The Supernaturals" cards per inner case!
Look for rare hard-signed 'Artist Autograph' variations #'d to 25!
ALL NEW! – Museum Collection Relics focused on the WWII!
Take a look back at arguably the defining event of the 20th Century, featuring an array of autographs from living veterans as well as mind blowing relics!
ALL NEW! – Look for Booklet relic Cards, some featuring material from both sides of the historic conflict!
Includes materials like: RAF and Luftwaffe material from the Battle of Britain, US uniform and German camouflage material from the Battle of the Bulge, Allied POW Stalag ID Tag, German U-Boat Leather Coat, China/Burma/India Blood Chit, US Medal Service Ribbons (Purple Heart, Silver Star, Distinguished Flying Cross, etc.) and much more!!
ALL NEW! – Collect all 56 Declaration of Independence Facsimile Signature Cards, featuring the full lineup of signers of this historic document, with facsimile signatures on vintage parchment paper! Limited to 76 copies per card!
COMPLETE YOUR SET! – Complete the collection of "Origin of Species" Patch Cards with this final installment!
Falling five (5) per case!
The third and final installment of a 3-year program tracing the history of advanced life on Earth!
2014– The Dawn of Complex Life
2015 – Age of Dinosaurs:
2016 – Age of Mammals:

Herbivores/Omnivores/Carnivores
Predators
Winged
Water/Amphibian
Primates
Humans

Cards checklisted OS-201 thru OS-300 with varying levels of rarity!
ALL NEW! – Rare, Goodwin Masterpieces Alice's Adventures in Wonderland Painted Booklets!
Collect a hand-painted retelling of the beloved literary classic, across 21 unique cards, in chapter order. Each card limited to a numbered edition of 10!
Honoring a timeless classic in a timely fashion – 

Alice Through the Looking Glass

, Tim Burton's much anticipated sequel to hit film Alice in Wonderland is scheduled to release this May!
RETURNING! – Historical Rhetoric Audio Booklet Cards!
Each two-panel booklet reveals a wide angle image of a famed oratory event while playing an audio clip of the featured speech!
All new iconic speeches to collect!
RETURNING! – Look for Goodwin Champions Cut Signature cards!
Featuring a wide array of historical and entertainment subjects!
Get six (6) Goodwin Champions Minis per box!
Three (3) rare Minis #'d to 25 or less per inner case!
ALL NEW! Look for rare "Lumberjack Back" wood substrate mini parallels, numbered to 8!
Five (5) Black & White High Series SPs per box!
Collect Goudey inserts featuring a variety of top Athletes and Personalities!
Falling five (5) per box!
Look for rare Goudey Sport Royalty and Goudey Autographs featuring stars such as:

LeBron James, Tom Glavine, Wayne Gretzky, Holly Holm, Mark Messier, Paige VanZant and more!
PRODUCT BREAKDOWN:
Hard-Signed Autographed Cards: 
Goodwin Autographs (1:26)
Goodwin Inscribed Autographs (Varied Hand #)
Sport Royalty Autographs (1:2,560)
Sport Royalty Dual Autographs (1:10,560)
Goudey Autograph (1:320)
The Supernaturals Artist Autographs (# to 25)
Goodwin Cut Signatures (Varied #)
Museum Collection WWII Signatures (1:160)
Memorabilia and Relic Cards: 
Goodwin Memorabilia (1:30)
Goodwin Memorabilia Premium Series (Varied #)
Goodwin Dual Swatch Memorabilia (1:960)
Goodwin Dual Swatch Memorabilia Premium Series (Varied #)
Goodwin Black & White Memorabilia (1:300)
Goodwin Black & White Memorabilia Premium Series (Varied #)
Goudey Memorabilia (1:150)
Goudey Memorabilia Premium Series (Varied #)
Sport Royalty Memorabilia (1:960)
Sport Royalty Memorabilia Premium Series (Varied #)
Sport Royalty Dual Swatch Memorabilia (1:1,920)
Sport Royalty Dual Memorabilia Premium Series (Varied #)
Origin of Species Patches (1:64)
Museum Collection Relics – WWII (1:320)
Museum Collection Booklet Relics – WWII (1:1,209)
Alice in Wonderland Illustration Relics (1:3,200)
Inserts and Parallel Cards:
Minis
Minis – Canvas
Minis – Cloth (# to 25)
Minis – Leather (# to 16)
Minis – Wood (# to 8)
Minis – Gold (# to 1)
Goodwin Masterpieces – Alice's Adventures in Wonderland (Hand # to 10)
The Supernaturals (1:80)
Declaration of Independence Facsimile Signatures (# to 76)
Base Set:
Regular Cards – 100 cards
Regular Cards Black & White Short Prints – 50 cards
Regular Goudey– 50 cards