2019 Gold Standard Football Box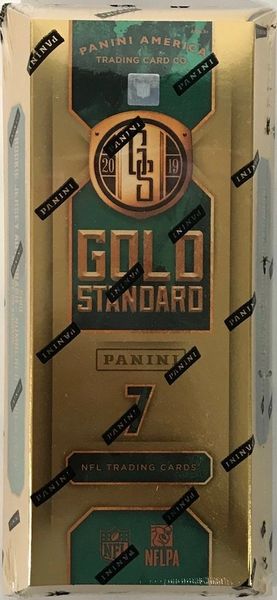 2019 Gold Standard Football Box
Configuration: 1 pack per box. 7 cards per pack.

PRODUCT HIGHLIGHTS
- Gold Standard football returns and is loaded with all the top rookies, veterans and retired stars the NFL has to offer.
- Look for Rookie Jersey Autographs of all the drafted 2019 Rookies, also find the short-printed Rookie Jersey Autographs Double and Rookie Jersey Autographs Triple, which feature multiple swatches and parallel to Prime (max #'d /49) and Tag (#'d 1/1).
- New to Gold Standard in 2019 hunt for 10k and 24k Autographs, which highlight players that have gained more than 10,000, and 24,000 yard in their careers. These are max #'d to just 49 and parallel to Platinum (max #'d /10) and Black (#'d 1/1)
- Chase the limited Super Bowl Diamond Signatures and the Super Bowl Diamond Signatures Duals, which include real diamonds embedded in each card and commemorate only players who have won the biggest game in the NFL.
- Find memorabilia cards in Hall of Gold Threads, Gold Gear, Gold Rush, White Gold, Mother Lode, and Golden Pairs. Each of these cards parallel to prime versions (max #'d 49) and premium versions (#'d 1/1).

BOX BREAK:
- 5 Autographs or Memorabilia
- 2 Base or Parallels